Wex Polymeric Industries is conducting its business activities from Haryana, India. With vast domain knowledge and experience, it has acquired a position of trusted manufacturer, supplier and service provider of a wide range of products which includes Water Treatment Chemicals, Cooling Water Treatment, Boiler Water Treatment Chemicals and many other water treating solutions. All the processing, formulation, quality testing etc takes place in our specialized lab which is staffed with a team of experienced quality experts. They make sure that all the ingredients, oxidants, disinfected chemicals are procured from the authorized vendors in the market. In addition to our products, we are also offering AMC services, Descaling and Maintenance services to our eminent clients. With our high end services and quality products, we have been able to meet and surpass our clients expectations.
Some Key Details

Business Type

Manufacturer, Supplier and Service Provider

Year of Establishment

2011

No. of Production Units

2

Original Equipment Manufacturer

Yes

Warehousing Facility

Yes

Bankers

Indian Bank

Our Presence

Delhi NCR, Haryana, Maharashtra, Rajasthan & Uttar Pradesh, Bihar, Chhattisgarh


Our Branches

Nagpur, Raipur, Rohtas (Bihar)


Primary Competitive Advantage

Cost-Effective Solutions
Wide Market Network
Transparent Business Dealings

Product List

Water Treatment Chemicals
Descaling Compounds
Cooling Water Treatment
Boiler Water Treatment Chemicals

Reverse Osmosis Water Treatment Chemical
PH Booster
Resin Cleaner
PVC Fills
Softener Resin
Alum ( Feetkery)
Anti Scaling Chemical

Testing Kits

E.D.T.A
Amonia Buffer
PH Paper
TDS Meter
Hardness Tablets

In addition we render services like:

Maintenance & Installation Service for Cooling Tower
Maintenance & Installation Service for Industrial RO Plant
Amc Services
Descaling Services

Cooling tower Descaling.
RO Plant Descaling
Boiler Descaling
Solar Plant ( Collector) Descaling
Softener Plant Descaling
Chiller Plant Descaling
Furnaces Descaling

Our Catalog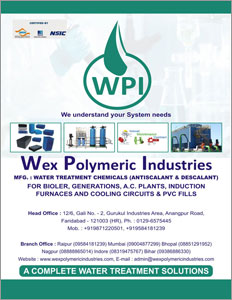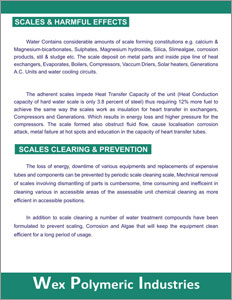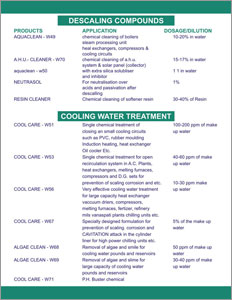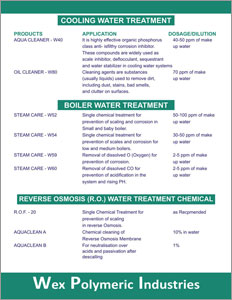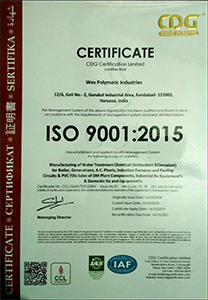 "We are accepting orders from all over in India but mainly expecting inquiries from Madhya Pradesh, Chattisgarh, Delhi, Bhopal, Nagpur in bulk quantity"